Nashville is Leading the Way in Digital Innovation by Way of Collaboration for America's Largest Industry: Healthcare
March 3, 2022 / Share:
On Tuesday, February 22, 2022 (also popularly referred to as twosday), healthcare industry experts gathered at the Nashville Entrepreneur Center to share best practices for tech and digital applications for the future, inspiring a room full of 100+ health and tech entrepreneurs. Nashville is a long-time healthcare hub which has resulted in many organizations setting up shop in Music City. However, as we step into a more digital age and watch tech be folded into the blueprints for all business decisions, Nashville is inarguably becoming the top Healthcare IT hub in the nation.
A FIRESIDE CHAT
Eric Thrailkill of the Nashville Entrepreneur Center led Aaron through his discussion on digital innovation in healthcare. Aaron Martin, chief digital officer (overseeing marketing, digital solutions and venture companies) of 8 years at Providence Health, a $- $26B regional health system in eight states. Martin is also the Managing Partner of Providence Ventures – a $300M venture fund with approximately 30 portfolio investments. . Martin's background included working on special projects for Jeff (Bezos) at Amazon, LLC. Inspired by the founder's story of Providence (a group of nuns that dedicated their lives to building this healthcare system), he also saw the amazing technical opportunities for advancement in Healthcare and left Amazon to be with Providence 8 years ago. Today, Martin is considered one of the top thought leaders in the industry rallying businesses to collaborate for a stronger future in healthcare.
There are three steps (or questions) that Martin and his team take at Providence when looking at opportunities, which helps keep his team of 120+ engineers focused and innovative:
Do we already have the solution or tool? Then we use it.

If we don't have the solution, does anyone else in the market? We may invest in it.

Lastly, if no one else has it, then we build it.
"The biggest threat to healthcare at this time is labor, the workforce," Martin exclaims. The three greatest areas for improvement in healthcare and regarding this threat include: (1) Asking ourselves how can we move some of the work to the patient, i,e, self-service, (2) Offering greater flexibility to the workforce, i.e. no more 12 hour shifts for moms (who make upalmot 70% of the workforce), and (3) Finding solutions for Physicians to not be bogged down by direct messaging. While healthcare systems would look to workflows to find better efficiencies, "the tech solution is noting that when someone reaches out with a question, that means it's a defect" and there should be a self-service digital solution, says Martin.
PANEL DISCUSSION
Moderated by Vice President of HCA Healthcare and a newly appointed Board Member of the Nashville Entrepreneur Center, Jessa Kelley balanced the dialogue of the personal journeys of the CEO's of three leading digital healthcare companies, with their outlooks for 2022 and beyond. Interviewees included: (1) Ziv Ofek, founder and CEO of MDClone, (2) Marjorie Morrison, cofounder, president and CEO of Psych Hub, and (3) John Bass, founder & CEO of Hashed Health. The panel provided great insight, and inspiration, to the audience who were energized to contribute, communicate and "radically collaborate" with us at Project Healthcare.
Highlights from this panel discussion included:
Ofek grew his company by getting some key advice from his brother to "make sure you have some people disconnected from running the business to think about innovation,"

Bass shared his elevator ride with industry icon Charlie Martin, of Martin Ventures and how his "elevator pitch", combined with Martin's advice, enabled him to successfully launch what is now a venture studio leveraging Web3 and distributed ledger technologies

Morrison received a life-changing suggestion from a military general that her experience makes her a perfect fit to "build a program that requires all service men and women to take the course." Meaning Psych Armor, a company with an online program to support military mention and behavioral needs.

"Keep thinking big," remarks Ofek. It's the essence of what entrepreneurs should do – never stop having large goals, thinking big and purposefully dedicating time for ideation and innovation.

Morrison suggested making time for the basics – communications, consistency and keeping everything simple. "And most importantly, never stop discussing the "why"."

Ofek contributes some of his success to putting greater effort on finding the right talent and "champions of the field."

Each panelist was asked how they would spend their time with one extra hour in each day

Morrison reflected on the need for white noise and more time for physical fitness to recharge.

Bass shared that while he has great time spent in business, with colleagues and his family, he recognizes he needs more time with the guys, or his friends.

Ofek shared he would alternate the hour between sleep, time with family and more one-on-one conversations with all employees at his business.
Collectively, all panelists continued to express the importance of collaboration among healthcare industry professionals to move into a more efficient future for Healthcare.
PHOTOS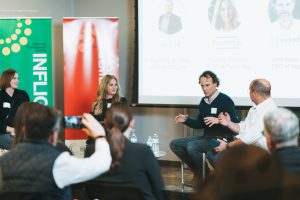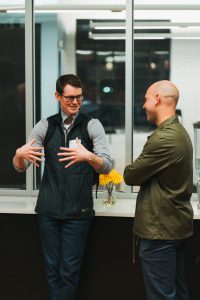 FOUNDERS SPOTTED AT THE EVENT
THE NASHVILLE ENTREPRENEUR CENTER
The Nashville Entrepreneur Center (also referred to as "The EC"), is a non-profit organization dedicated to help make Nashville the best place in the US to start and grow a business. While we are a part of a greater ecosystem that makes Nashville a great place for healthcare, The EC provides specialized programming for Healthcare Industry Founders, called Project Healthcare. And as a bonus for entrepreneurs that are members of our community, we have an advisor / mentorship program where founders can get personalized advice and attention from experts in various fields and stages of entrepreneurship.
THIS EVENT WAS SPONSORED BY